Your Cyber Week digital commerce health check
With more than 76% of Black Friday* spend expected to be online this year, it is more important than ever to ensure that your website and marketing budget is performing at its highest level this Cyber Week.
However, picture this: You've spent weeks making new creatives, figuring out the perfect offers, and building brilliantly engaging emails to find out on the day that your tags onsite don't fire or heaven forbid your website crashes!
Let's avoid this situation with our handy 15-point Cyber Week health check:
1. Tagging and pixels
The single most overlooked part of any Cyber Week strategy, and arguably one of the most important, is ensuring that your website tags and pixels are firing on the run-up and during Cyber Week.
The consequences of not having an effective tagging and pixel strategy in place is a complete loss of visibility for retailers regarding what audiences, keywords, campaigns and creatives are delivering value for you during this key period.
With the introduction of GA4 this year, we are finding with more and more retailers that what they had set up in Universal Analytics hasn't always transferred over to their new GA4 profiles.
Double check that your eCommerce integrations are all in place on GA4 ahead of peak. The same goes for tagging across Meta, Google Ads and beyond.
One key aspect to check on Google Ads is that you have the core commerce data layers implemented correctly for your Performance Max campaigns. One of the key things any retailer needs to be implementing in order to make Performance Max and any Google dynamic remarketing activity work correctly is to have the following parameters in place:
ecomm_prodid - Tells Google which product has been viewed on site and what to remarket to each user
ecomm_pageID - Tells Google which page the user visited
ecomm_totalvalue - Tells Google how much the user has spent and allows you to maximise conversion value bidding strategies to work effectively
When implemented correctly, your graphic in Audience Manager should look something like this:


If these parameters are not in place, you will not be dynamically re-marketing through Performance Max.
2. Retargeting audiences
On average, 75% of your Cyber Week revenue will come from customers who have visited your website in the last 30 days. Are you, therefore, prioritising this audience in your retargeting strategies?
Whether it's through Google, Meta, Pinterest or any digital channel, you can build a remarketing list based on any number of factors.
First things first, make sure you have pixels in place. If you haven't checked in a while, utilise tools such as Metas Pixel Helper https://developers.facebook.com/docs/meta-pixel/support/pixel-helper/.
If you are looking at Google audiences, navigate to the Audiences section in your GA4 property to understand what you have set up. Most importantly, ensure it is shared to your Google Ads account to utilise these audiences in your activation strategies.
We'd suggest prioritising your audiences that have visited the site in the last 30 days but not converted as your core audience. It is also worth checking if you have the data from last Q4; what you may find is that you have a customer base that has lapsed since your last Cyber Week and is ready for re-engaging. This most likely will be a gifting audience, and you could even target them with gifting-related creatives to enhance relevancy.
3. Performance Max (PMAX) assets
As with anything this time of year, relevance to the season is key to standing out amongst your competition. Google Shopping is no different, so adding relevant festive or Black Friday / Cyber Week (BFCW) images to your PMAX asset library could be a key win in your arsenal to beat your competition.

4. Google Merchant Centre promotions
For the majority of retailers, Google Shopping will be a critical channel for Cyber Week success. You can quickly and easily create a promotion in Google Merchant Centre to ensure that your BFCW promos are covered across your shopping ads.
The promotion builder is located in the 'Promotions' dashboard of your Merchant Center account. You can even schedule your start and end dates to ensure that the promotion stops automatically while you are busy packing all of those BFCW sales!
The promotion builder supports the following promotion categories:
Amount off: Offer a monetary discount for your items
Percent off: Offer a percentage discount for your items
Free gift: Offer a free gift based on an item purchase or amount spent
Free delivery: Offer free delivery based on an item purchase or amount spent (not available for local inventory ads).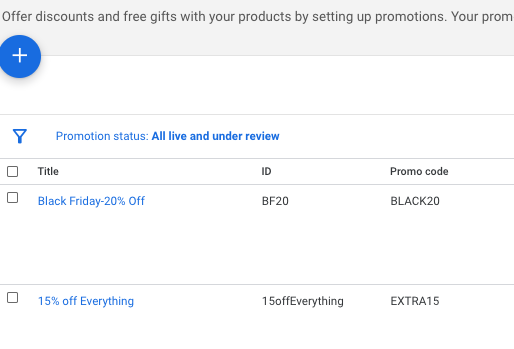 Reward loyal customers
In the rush to attract new customers to the brand during peak period, you can often forget about those core to your business. It doesn't take too much to make them feel special.
Identifying and segmenting your high-value and loyal customers can be a key tactic to increasing basket and order value pre- Cyber Week.
A few tips to rewarding loyalty are:
Early access to the BFCW sales
An additional % off
A time limited % off before the actual sale
Free gift with every order
6. Email send times
It is rare these days that brands actually start their Black Friday deals on Black Friday. However, it is always worth noting that if you are sending an email on BFCM itself, you may face some congestion and delays.
It is estimated that 116.5 million emails were sent last Black Friday across the US. With this in mind, servers can become crowded, and you may experience delayed send times, or they may not even send at all.
Each strategy differs, but in general, it makes sense to tease your emails throughout the week and look for times that you feel the email would have the most impact with your customer base. In a time when you need to stand out, being one in a million emails on BF itself may not be the best strategy anyway.
7. Overlays & p

op-ups
Tactics that you may have implemented, as "always on" strategies throughout the year, may not be the best course of action when you are getting a sudden influx of ready-to-buy traffic.
An example of this would be onsite pop-ups or overlays encouraging users not to abandon the basket or leave the site. Prior to BFCW, it would be worth testing the effectiveness of these on days that you usually experience higher traffic volumes to see if they are benefitting conversion or actually proving to be detrimental.
When a user is already in the purchase mindset on BFCW, an additional overlay may actually prove to be a blocker, especially on mobile, if they were intending to buy.
8. Checkout and payments
To be honest, this is probably one you need to consider well before BFCW, but have you got the payment providers your customers need and want in order to ensure every add-to basket is resulting in a checkout?
Customers are more demanding than ever, and they expect retailers to have their preferred method of checkout, whether it is Apple Pay, Google Pay, Klarna, or Paypal –he list goes on.
Through Visualsoft's embedded payment solution, VS Pay, we've seen that conversion rates can improve by up to 37.4% when activated with Apple and Google Pay.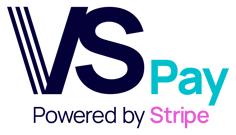 9. Customer support
Let's face it: this is likely going to be most retailer's busiest day of the year, so with that, potential customers may want to get in touch with you there and then, and it may be the difference between making a sale and not.
Make sure your chat functions are working correctly, your customer support send times are short, and people are manning the phones.
10. Consider referral codes
Your biggest brand advocates are often your customers, and referral codes can be a hugely successful tactic during peak periods in order to bring new loyal customers to your brand.
Users trust reviews from people they know over and above any ad or social influencer out there. So why not send out referral codes to your subscriber base to share with friends?
They will often bring new customers to your brand, and if you can also loop in a reward for your current customer, everyone's a winner! Doing this prior to BFCW will also allow you to spread the sales before/after the peak time, ensuring you can deliver them the perfect customer experience to keep them coming back!
11. Affiliate commission rates check
BFCW is savvy shopper central and ensuring your Affiliate programme is in tip-top shape is key to gaining that competitive advantage at this key time. Ensure you have a thorough review of the commissions you are offering at this time in order to reward those Affiliate partners that will capture new traffic for you during peak rather than just cannibalising the point of sale.
If you are reaching out to content opportunities, listicles and top-of-funnel awareness partners, set a higher commission to appear further up gifting lists and gain premium traffic. For those, cashback and voucher sites, make sure your commissions are much lower or a percentage of the total Affiliate journey to not over-reward in these areas. A SaaS solution such as https://partnerize.com/ gives you the flexibility to do this.
12. Make hassle-free returns a USP
Returns are a natural consequence of Peak shopping. It is estimated that 1- in-4 Gen Zerswill return fashion purchasers over BF, and 1 in 5 millennials will do the same**.
Rather than seeing this as a huge negative to your business, promote the fact that returning with you is quick, easy and hassle-free. Even if you don't get this initial sale, your audience will value this and return in the future, removing a potential barrier to purchase.
Online Purchase Drivers Q423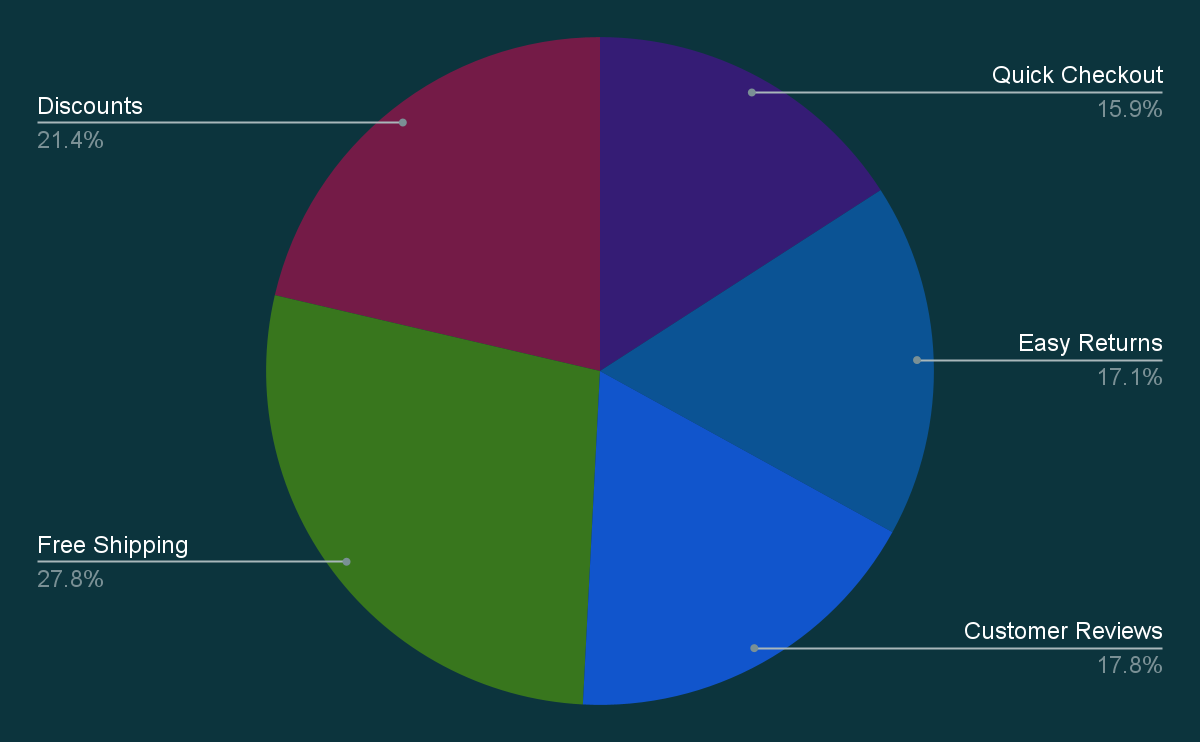 13. Ad Scheduling
During the peak period, the vast majority of marketing and eCommerce managers will have a million things to focus on, so ad scheduling should become your best friend.
The vast majority of retailers will have a variety of offers through Cyber Week. If you have just one standard offer, then thank your Marketing Director! If you are in the unlucky majority, spend some time getting your ad schedules in place.
We would recommend pinning your offer to headline one, writing your responsive search ads. Schedule your headline to change throughout the period with your various offers. This will ensure you don't have to constantly change your copy and potentially reset ads back into learning. Don't forget those all-important promotion extensions as well!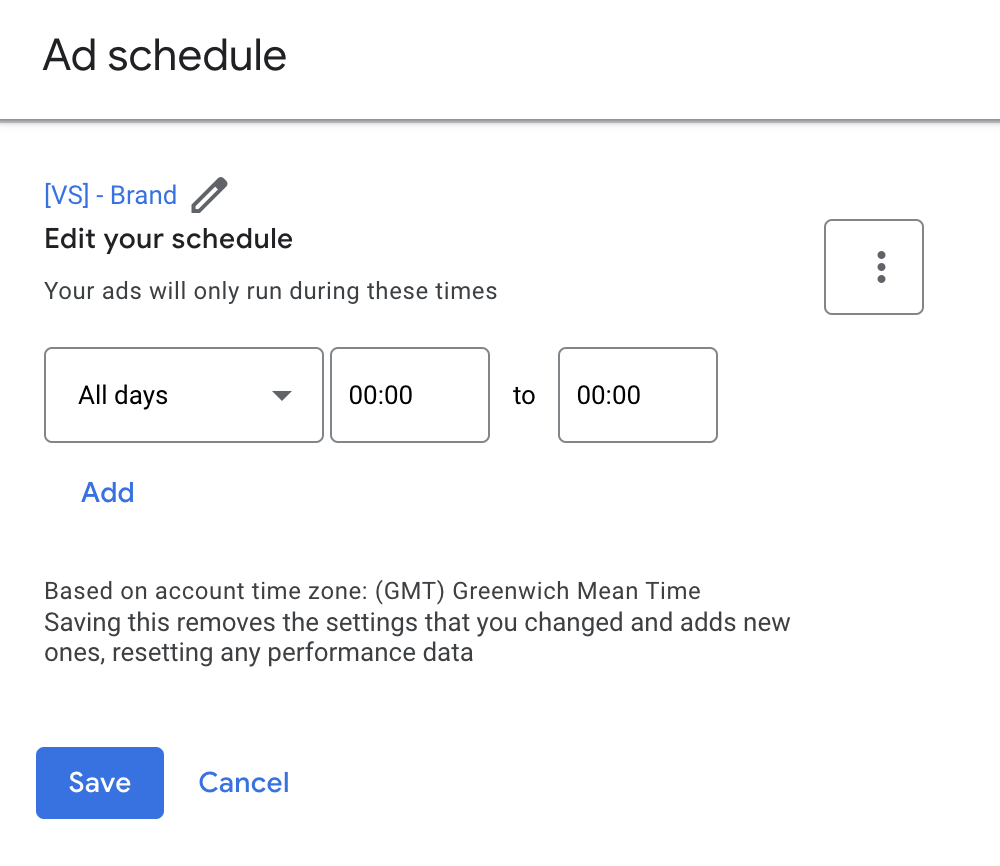 14. Take advantage of Google Free listings
Google makes you pay for pretty much every placement under the sun these days; however, organic free shopping listings is one area often overlooked by retailers that can give you substantial free traffic, if you focus on the optimisation.
Much like the rest of Google, rankings are rewarded on relevancy, so optimising your free listings as you would paid ones with all the relevant attributes and imagery will be just as key.
Additional attributes such as rich lifestyle imagery, trusted store badges and linked reviews will also help with organic rankings.However, as a first step, check your merchant centre report to see if you are appearing and go from there.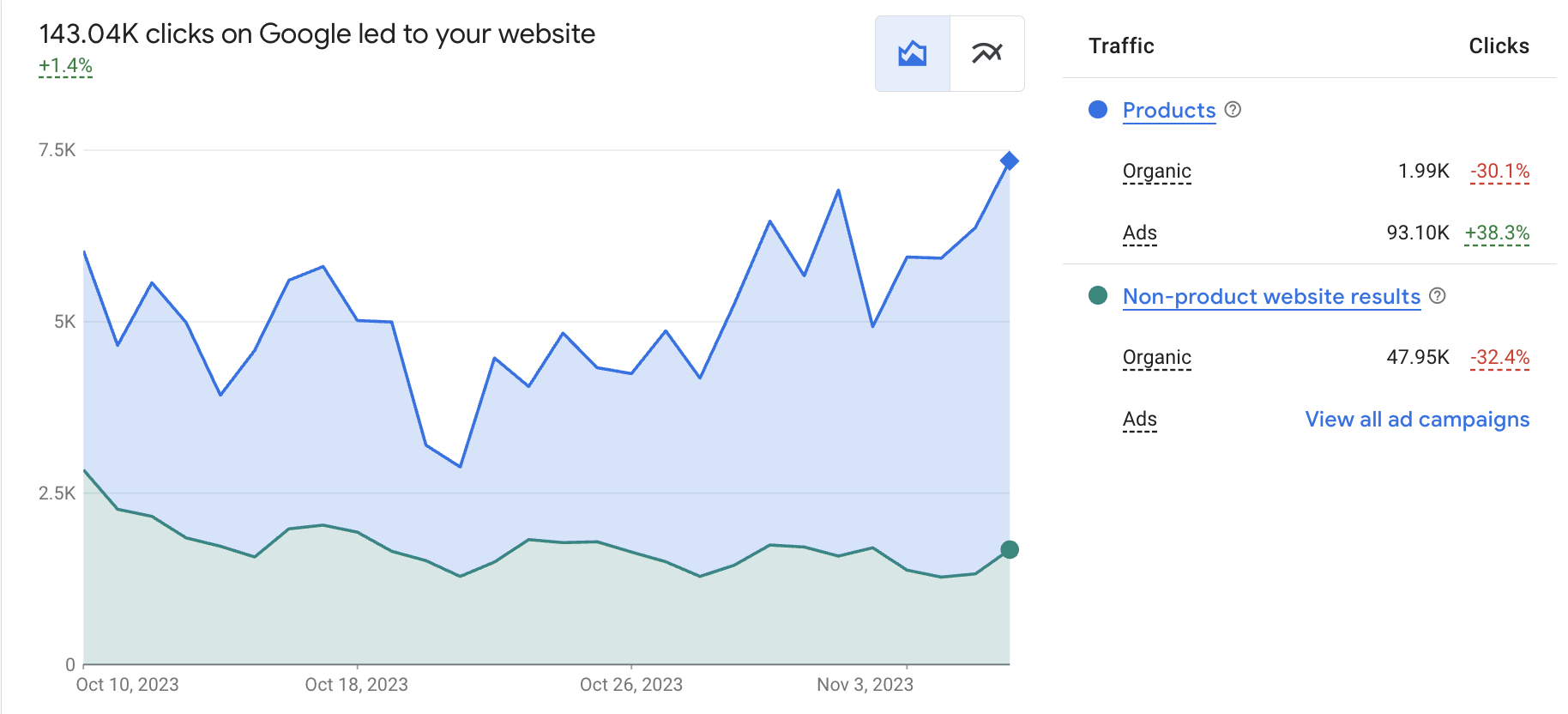 15. Reuse audiences in the following week
Finally, don't let all the effort you've put in to prepare for BFCW go to waste by taking your foot off the pedal. Utilise all that traffic that has come through to your site to:
Retarget with limited-time deals
Increase your frequency on basket abandonment retargeting
Put countdown ads in place for last delivery dates
Update your creative with last-minute gift guides
Break out your best-selling BF products into their own campaign and continue pushing them
Happy shopping season!
Visualsoft powers online performance for retailers.
We craft eCommerce strategies from store design and build on our platform to multi-channel digital marketing – proven to help achieve our clients' ambitions. To discuss how we can help you maximise your peak season performance, get in touch.
*https://www.wundermanthompson.com/insight/black-friday-2023
**https://www.retailgazette.co.uk/blog/2023/10/one-in-every-six-returned/#:~:text=The%20report%20from%20over%201%2C000,be%20the%20highest%20returning%20cohort.