Embracing Personalisation In the World of eCommerce
Join us as we delve into how personalising can enhance the shopping experience. With commentary from Personify.
Smart eCommerce personalisation enhances the online shopping experience by making customers feel special through building connections and loyalty. This understanding is seeing more and more successful eCommerce merchandisers try to make their site visitors feel like royalty, and it really does work. At Visualsoft, we work with some amazing technology partners who can help retailers and merchants take their customer experience to the next level. And this time. It IS personal.



Let's Make This Personal
Personify XP, is one of our trusted technology partners. They are the world's first anonymous real-time analytics and personalisation platform, specialising in helping eCommerce brands convert unknown website users into loyal customers with engaging, automated website personalisation.
eCommerce personalisation can offer a magnitude of benefits that revitalise an existing customer base and also increase profitability as it's more efficient and affordable than acquiring new ones. Making a customer feel like you're speaking directly to them through building a connection and understanding their needs, so you can fulfil them. This can ultimately help your conversion rates soar.
According to experts at Personify, personalised experiences increase customer satisfaction, which increases customer loyalty, which also increases sales. If you can improve the experience of purchasing from your eCommerce store, customers will be happier with the way things are going on your site and will want to come back again in future – so it pays off!
Incredibly, as much as 90% of consumers say that they are influenced by eCommerce personalisation, and almost 90% of marketers say that eCommerce personalisation has boosted revenues. Real-time eCommerce personalisation offers plenty of benefits; it's just about implementing the right strategies for your site.
Influenced by eCommerce Personalisation
For almost all eCommerce brands
Say eCommerce personalisation boosted Revenues

Ways of Personalising the Customer Journey
There are so many different use cases of website personalisation within a website and it is always different from site to site. Different customers, looking at different products, on different sites, have different wants and needs. Which is why using relevant data to collect information on your customers' behaviours on your site, can be a great way to inform which elements of personalisation perform best with your audience. Though personalisation techniques differ between site to site, examples of how you can utilise personalisation in your site strategy are:
Product Recommendations
Product Bundling
Page Optimisation
Call to Actions
Social Proofing
Content banners/ Website content*
Personify XP have found that anonymous website personalisation is a 10% revenue opportunity for almost all eCommerce brands, this is down to the increased conversion rate and average order value that website personalisation delivers. Not only this but bounce rates within the pages of a site are also decreased by up to 15%.*

Why Aren't All Retailers Using Personalisation?
Believe it or not, there are still more than half of online retailers that have yet to take advantage of eCommerce personalisation, despite all the obvious benefits. Here's some of the reasons why:
Data Issues
Imbalances between the lack of data on new customers and an overwhelming amount of data for returning customers. With cookie policies changing, keeping on top of the legal aspect can feel daunting for some customers. But it doesn't have to be. You can integrate systems and platforms that use their own cookie policies that you can get to know, and enable on your sites.
Ensuring you have the 'right' data is also essential to the experience you deliver. Whilst some things may seem trivial, this can impact the customers decision to buy. For instance, if you have collected data such as "Title, First Name, Last Name" and when used to personalise the customer experience, one of those is incorrect, this can harm your perceived legitimacy with the customer. Following this, they can lose trust, causing them to ignore the rest of your personalisation efforts, or worse, even leave your site.
Whilst ensuring your data is inline with legal policies, ensuring you have the right data is important to the user experience too.
Fast, Effective Results
Seeing patterns, and behaviours of consumers, and responding in real time is important otherwise the impact of personalisation can decrease. For example, if you have a returning customer on your site, could there be a pop-up that says "Welcome back [First Name]" within 3 seconds of them landing on your site? This can engage a customer immediately. If it takes 30 seconds for this to pop-up, the customer may have already left your site by this time, and your efforts are wasted. Investing in the right platforms and tools to personalise your audience is extremely important.
Being Too Intrusive
Effective personalisation occurs when the customer doesn't really know it's happening to them. Using the right data is important to ensure you don't make a customer feel uncomfortable with the information you're projecting back to them. For example, referring to a customer by name, or offering 10% off as a birthday discount can be a nice touch. But relaying their address and banking information to them may give them an uneasy feeling. We've all heard someone say the classic "my phones listening to me" when a retargeting ad shows up on their feed. Whilst retargeting works for lots of audiences and is often very effective, many people are simply not ready for the more aggressive forms of personalisation. And that's okay. Knowing your audiences, and their preferences, is all a part of good personalisation. Ensure you choose data carefully and inline with data policies.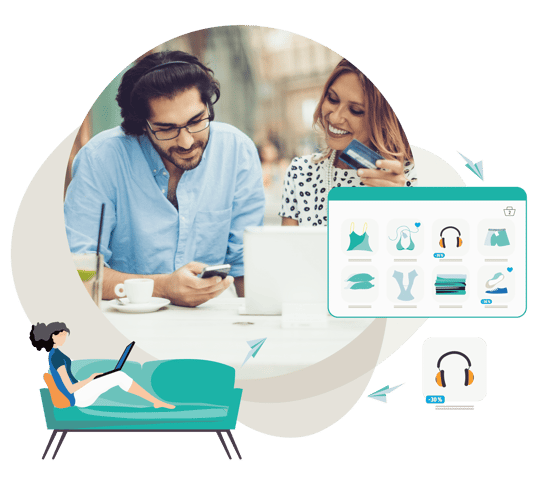 The Take Away On Personalisation
Whilst there are some elements that need some extra attention in order to deliver an effective personalisation strategy, these are minor hurdles to account for when considering the benefits of personalisation for both retailers and consumers.
The time for embracing personalisation is now. The online landscape is ever-growing, which means retailers and merchants need to continuously level up their offerings to stand out from a very crowded space, and dominate competitors. As we move through a time where post-covid effects, inflation and world-wide economic factors are to be accounted for, consumers will likely be more considerate of where to spend their money. Ensuring a memorable, seamless and personalised experience for your customers is the perfect starting point for perching your store at the top of a consumers list when it comes to making a purchase and parting with their money.
To find out more about improving your site through personalising your customer journey, get in touch today to speak to one of our experts.
Through the power of our innovative eCommerce platform, our own industry experts and marketing solutions tailored to you, we can help with your online journey; building, growing and scaling your business.