Optimising for Mobile eCommerce: Do it Like a Pro
Learn how you can optimise your eCommerce offering for mobile adding convenience for your consumer and increasing the potential for conversion.
Did you know, most consumers are not using mobile out of obligation, they're using it at home because they expect it to be quicker and easier?
Mobile users are quick to abandon with the slightest delay, and the best way to combat abandoned carts and high bounce rates is to optimise your site for mobile use.
You should already be using a website that operates on a responsive design model across the entire site, but there are several things you can do to make your eCommerce page even more mobile friendly. Here's how…
UK buyers shopping through a smartphone
According to forecasts, retail sales from m-commerce are expected to surpass the 100 billion GBP mark by 2024.
Smartphone conversion rate in the UK
Fingerprint Sign-in
As consumers, we love convenience. Imagine having spent a significant portion of time browsing a store on your mobile, adding items into a cart - then boom, you're required to sign into an account before checking out. Even worse, you sign in only to find that your shopping cart items are nowhere to be seen.
Take the barrier away from the customer and avoid delaying the conversion process by instead prompting the shopper to sign in to their account using their fingerprint before they begin shopping.
Whether your site is mobile-optimised or you offer a mobile app, allowing shoppers to quickly sign in with one touch of their finger not only saves them time but means they don't have the inconvenience of remembering a password too.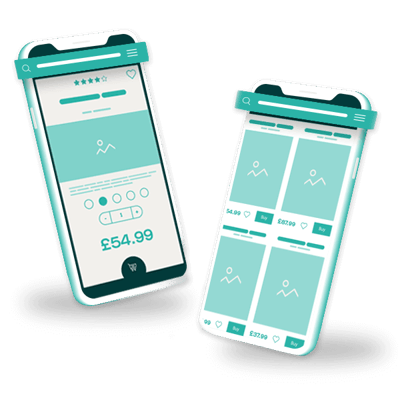 Consider Search Bar Position
Keeping the search bar above the fold is the most effective way to convert online shoppers into customers. Considering the position of the search bar on your site is vital, visitors that engage with searches are up to 5 times more likely to purchase from you. This type of intentful shopper is much more likely to convert because they already know what it is they are looking for.

Provide a 'Save for Later'
Online shoppers abandon their carts for all sorts of reasons. It's no secret that it's easy to get distracted on the Internet, especially when we consider the ads that are strategically placed for click throughs or notifications beeping constantly.
With that being said, if your eCommerce store struggles with a high abandoned cart rate, there's most likely a reason for it. In some cases shoppers can just simply forget about the item in their cart, to resolve this offer your shoppers the option to 'save for later' or add to a wishlist.
Even though they need more evaluation time before purchasing, providing this option makes it more convenient for the customer to come back at a later date and reconsider purchasing the item they were originally interested in.
Optimise Your Checkout Experience
Creating a one-page mobile checkout is essential if you want to increase conversion rates and optimise your checkout process. Remember, your visitors will have already spent a considerable amount of time browsing through your site and will want the checkout experience to be easy and quick.
Keep the form short, and ask for only necessary information. If they don't have an account, let them continue purchasing as a guest as forcing the customer to create an account can deter them from purchasing.