Powerful Performances From PPC & Paid Social for Hot Diamonds
After replatforming from Magento, Hot Diamonds came to Visualsoft for PPC and Paid Social and achieved great results.
Hot Diamonds partnered with Visualsoft after needing to improve their end user sales. They did not however want to upset their B2B base in doing so. Strategists suggested a shift in their campaigns and adding mood boards to email marketing and also to the site when new products are released which adds an inspiration to purchase. Strat also suggested a number of influencers for their demographic who they managed to and picked Jacqueline Jossa who they are currently working with for a new range. PPC has worked well for them as a platform, as has Paid Social Media. We set up their automated email journeys as well via our managed Email Service. We will be complimenting influencer marketing moving forward as have a few more planned!
Increase in unique purchases
Hot Diamonds partnered with Visualsoft to achieve great results in their PPC and social campaigns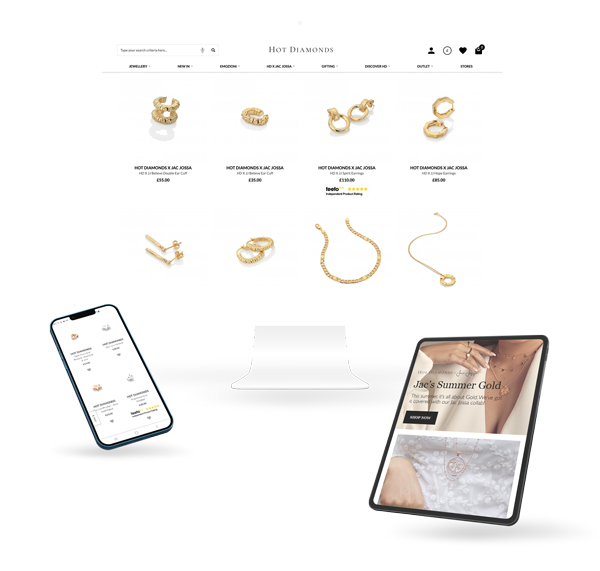 We made the move from Magento to VS via Optimum in November 2020 and the results have been very positive. The development of the site was professionally managed and, since our launch, revenue has been growing very strongly driven by increased conversion rates and average order values. The relationship between ourselves and Visualsoft feels much more like a partnership compared with a traditional web agency/client relationship. We are looking forward to further growth in the coming months and years.
Adryan Creswel
- Head of Commerce at Hot Diamonds
Let's Talk
If you need help or advice growing your eCommerce business, we have an amazing team specialised in building, growing and scaling online businesses. Through the power of our innovative eCommerce platform, our own industry experts and marketing solutions tailored to you, we can help with your online journey..
Sign up to view other success stories we're proud to be part of