After recently becoming a certified Google Analytics Partner, we were thrilled to receive an invitation to the 2015 Google Analytics Summit in San Fran! The event – this year themed 'The Power Of Together' – was held on 9th & 10th June at the Hyatt Regency San Francisco Airport.
On 7th June 2015, we embarked on the 5,500 mile trip to attend the event. We'd read that the event would focus on the key integrated marketing analytics tools to help businesses keep pace with evolving consumer behaviour, and we weren't disappointed – we picked up some great tips, as well as understanding new marketing strategies and being lucky enough to witness some of the new product launches from Google!
Day one…
We were in great company throughout the event, with over 800 attendees from some of the biggest names in the business world including Talk Talk, Sky and iProspect. Day one started with breakfast and registration with some key 'Googlers' including the Partner Manager Will Prior (who's such a nice guy!) and our Google Account Manager who we have got to know very well since becoming a certified partner.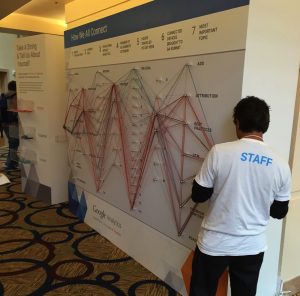 A nice touch was the string board, which encouraged all attendees to take a coloured piece of string, (colour dependant if you were a partner, Googler or client) and wrap it around each point on the map, giving a visual representation of where people had travelled from and what they wanted to get out of the 2 days – very clever!
After a hearty breakfast, the summit opened with keynotes based around the theme of the event, which in short focused on the seamless integration between Google products and Google Analytics. We then spent the rest of the first day attending some really interesting speaker sessions which we chose based on our needs as an eCommerce specialist, including:
Moving at the speed of the consumer – think like the consumer and really understand their needs and eventually understand their touch points.
New product breakthroughs (we're sworn to secrecy on these so can't say much – sorry!)
Consumer engagement, content insights and actionability – increasing conversions by driving deeper insights, especially the power of offline or in-store data used with online.
User actionability and analysis
The evolution of attribution – Valuing consumer moments – use attribution to really understand your customer and make marketing highly targeted.
New multichannel funnel features – correct setup to gain more insight
Day one concluded with a lavish affair which included the Awards of Excellence, drinks and a buffet which only Google would get away with (think lobster sandwiches and liquid nitrogen popcorn!). Great first day – it left us in anticipation to see what day two would bring!
On to day two…
Day two of the GA Summit included even more exciting announcements and in-depth discussions on the latest features, this time with some fireside chats thrown in too.
Further sessions involved top tips and tricks to get the most out of Analytics, more specifically the extra reports and tricks with Google Premium. One huge advantage which we found is the use of measurement protocol to integrate Epos systems and CRM systems with Analytics data, and big query can also be utilised for bigger clients needing a seamless approach.
Throughout the whole event there was a huge emphasis on networking, but by the second day everyone seemed much more comfortable and it was great to speak to likeminded companies from all around the globe!
After another fun day of learning and observing, we took the opportunity to see some of the local sites (and by this we mean the food) so we joined forces with the guys from Sky, Wiggle and Talk Talk to share some knowledge and experience over an authentic American burger and fries.
So, what did we pick up?
As well as some top notch Google merchandise, we came away from the two day event with plenty of tips and tricks to bring back home to the UK. The importance of data was really a key focus on the whole event, and it encouraged us to think up new and innovative ways to take data and dig deeper into where the user has come from, when they came, why they came and what they need.
In addition to this, the event acted as a great feedback channel for Google and it's partners – they actually had worker bees changing things and adding new features whilst the event was on, based on feedback from the attendees!
We're really excited to put the things we learnt from the Google Analytics Summit into practice in the coming months, and reveal much more on the new product launches from Google very soon! Thank you for an amazing trip Google!